Gulf Shores, Alabama Beaches
Gulf Place Public Beach
Public Beach Access in Gulf Shores, Alabama.
This is considered the crème de la crème or better known as the cream of the crop here in the South for Gulf Shores public beach access spots. This hot spot is located at the end of Highway 59 where it runs into Highway 182.
With this being said, it is the most popular area and you must get there early to get a parking space much less a prime one close to the sidewalk at the beach where the fun in the sun begins.
Paid parking is from March 1 to November 30. $5 for up to four hours or $10 for all day. Beach attendants, three open-air pavilions and a picnic area are available.
The water varies in color and clarity, but the beaches sugar, white sands always remain a constant. The beach here is lined with 3 seasonal lifeguard stands for your safety between March and September.
Tents are allowed but large 10×10 ones (what other ones have to be behind the white post and what sizes aren't allowed at all) have to be behind the white posts which are about 150 feet from the shoreline.  
The sea life varies from day to day, so watch for purple flags and stay out of the water if they are raised. Jellyfish do sting and sharks do bite, and no one wants to step on the barb of a stingray and land in the ER on their summer vacation.
I'd recommend not feeding the seagulls no matter how tempting it is; they will take your food and then poop on you and your neighbor. You never know what you will see at the beach, I've even encountered a baby goat here, even though signs are posted everywhere that no pets are allowed.
Having Fun on Gulf Shores Main Public Beach
Nearby Restaurants
If you forget the basic beach necessities, don't forget the sunscreen and water. Anything else you need food and beverage wise you can get at The Hangout and the Pink Pony Pub right there at the beach.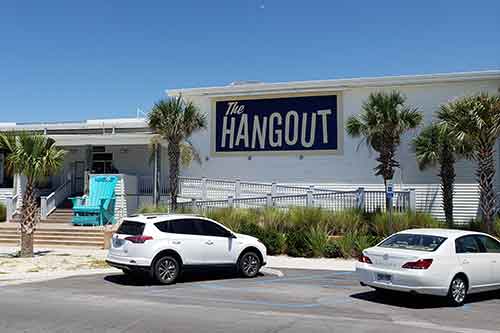 Don't forgot the snow cone stand across the street from the beach nor the local Scoops Ice Cream shop that has been there since 1980 if you need a cool, refreshing afternoon pick me up.
Several other restaurants and eateries in walking distance are
Beach Supplies
If you find you forgot any other necessities there is the oldest local grocery store, Pier 33 established in 1978, further west on 182. However, you do run the risk of not having a parking spot when you return. It is approximately 2 miles to walk there and back.
Several other stores in walking distance are
Amenities
This area has several amenities on the spot including 2 buildings with designated male and female bathrooms and multiple outdoor showers to rinse the sand off prior to your departure.
New blue Access Mats is a portable and removable roll out access route that can be used in a multitude of applications for individuals of all abilities (pedestrians and wheelchairs access), as well as strollers, and more particularly in beach environments.
The new wheelchair accessible sidewalk stretches 200 feet from the west end parking lot on 182 down to the east end parking at Pink Pony pub.
On the west end of the beach, it includes a blue mesh beach "access mat" that runs from the sidewalk 200 feet down the beach and Ts 50 feet to the right and the left.
It's 5' wide, made of plastic and held in place with 12-inch stakes. Folks who have used it say it makes getting where they are going much easier.
This not only increases handicap accessibility, but it's like having the red carpet rolled out for you.
It is useful for everyone not just for the ease of walking to the shoreline, but also helps those of us who like to take everything to the beach but the kitchen sink and overload our beach wagons, carts, coolers etc.
There are also 3 covered canopies in this area for those that want to get out of the direct sunlight.
How to Find It
101 Gulf Shores Parkway, Gulf Shores, AL, 36542
This is an easy location to get to. Just drive south on Highway 59 till it dead-ends into the Gulf.